Gas separation/compression/tank plants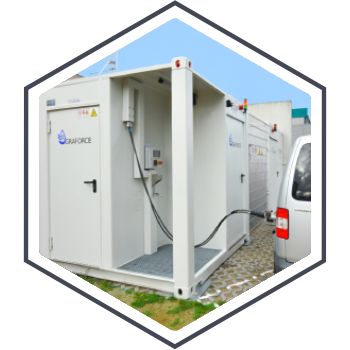 The separation module separates the hydrogen, nitrogen, methane, carbon dioxide and oxygen that is produced during plasmalysis with a purity of up to 98 percent and stores them in gas containers. The gas separation systems are known for their high separation performance, environmentally friendly operation and long service life.
Subsequently, the hydrogen can be compressed and made available in various mixing ratios via the refueling module.
The refueling systems include an H2/biogas compressor station, pumps and accessories for refueling cars, buses and commercial vehicles.
Methane Plasmalyzer® and HCNG filling station in Berlin Adlershof
In the fall of 2018, Graforce built the first combined power-to-gas plant with an integrated refueling system on its company premises in Berlin Adlershof and has since been using it to refuel converted company vehicles.
In this process, natural gas or biogas is split into hydrogen and elemental carbon using electricity from the company's own solar plant. The hydrogen produced is then stored and can be used in fuel cell vehicles or mixed with biogas in natural gas vehicles.
The process reduces vehicle pollutant emissions (CO2, CO, HC) by 30 to 60 percent. Nitrogen oxide emissions are also reduced by up to 60 percent.